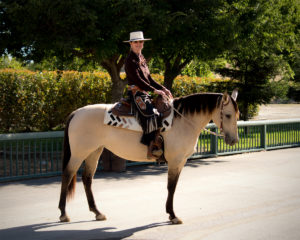 When I was about 7 years old I walked up to a horse for the first time and this large beautiful animal came over to me and put its nose through the fence so I could pet it. I knew at that moment when I grew up I was going to have a horse and I would win ribbons on it. At that time everything had to have a horse on it. We lived in town and my parents never would support my horse addiction.
When I was 22 years old within a month of graduating from college, I got my banking job and bought my first horse. I didn't have enough money for one, but was lucky enough to find a trainer that would let me work on the weekends cleaning stalls to pay for the board and training. When I was 25 years old I won my first ribbon. Competed in western pleasure and went top 5 at the Regional Arabian horse show.
After that experience, I felt to be a really good horseman you would need to know how to train a horse from the ground up. Luckily, my first trainer was into natural horsemanship. With natural horsemanship you train with respect and communication versus force and fear. He took me to see Pat Parelli and Ray Hunt when they were in this area.
I started helping people resolve their problems with their horses and I have experience working with children. It was always rewarding to see what a horse can do for a child. I also have started a few horses too.
I have a 17 year old mare named Speckles that I competed in Reining for about 3 years which we both got tired of that about 8 years ago. She is very sweet and gentle and is a great horse to teach novice children and adults basic horse handling and riding.
My other horse is a mustang I adopted from the Bureau of Land Management through the U.S. Government's wild horse adoption. I got really lucky with him. He is so fun to ride. He has never had a bad thought while I was riding him. He is 11 years old and his name is Bud.
In September of 2015 I acquired Mindy. She is a 6 year old quarter horse I had imported from Canada. She will eventually be my lesson horse. I had always wanted a Buckskin or dun colored horse and that is what she is. She is one of the sweetest horses I have ever met. I started showing in Cowboy Dressage which I will continue to do this year too.
I have worked with many trainers and with my 32 years of horse experience I would really like to show children and adults that you can have a safe and happy relationship with horses. You just need to understand them and they need to understand you.
I would also like to help people who would like to do some type of competition. Usually those trainers already want students that have the understanding of the horse and have a balanced seat. I can help with that too.
If you are planning on owning a horse someday, if you have a horse you are having problems with, or just want to learn about them, going back to the basics is for you.